International Game Technology PLC ("IGT")  and Sony Pictures Television announce the 25th anniversary of the high-performing and player-favorite Wheel of Fortune® Slots game. Originally launched by IGT in Reno, Nev. in 1996, Wheel of Fortune Slots has become synonymous with jackpots, winning and fun in the minds of casino and online slots players around the world.
Wheel of Fortune Slots' colorful history and pivotal role in shaping premium casino entertainment are as compelling as the games themselves. Spanning the mechanical reel, video, TRUE 4D™ and digital slots verticals, Wheel of Fortune Slots games are widely recognized by the sound of the iconic "WHEEL-OF-FORTUNE!" celebration, and uniquely offer their own spin on the legendary entertainment brand. Often referred to as "The millionaire-making machine," IGT's Wheel of Fortune Slots has firmly established itself as the "go-to" slot theme for a chance at winning life-changing jackpots and has paved the way for hundreds of additional licensed slot games to appear in land-based and digital casinos worldwide.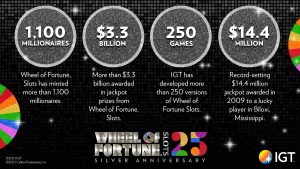 Of the many milestones achieved by IGT and its award-winning Wheel of Fortune Slots portfolio, some of the most noteworthy include:
Wheel of Fortune Slots has minted more than 1,100 millionaires
Wheel of Fortune Slots has awarded more than 

$3.3 billion

 in jackpot prizes
IGT has developed more than 250 versions of Wheel of Fortune Slots
Wheel of Fortune Slots awarded a record-setting 

$14.4 million

 jackpot in 2009 to a lucky player in 

Biloxi, Miss.
To honor this momentous milestone, IGT is celebrating with its "25 Weeks of Wheel of Fortune Slots" campaign starting in June 2021.The compelling campaign will drive Wheel of Fortune Slots excitement in casinos through exclusive giveaways and player promotions, and online via trivia, game spotlights and weekly contests where Wheel of Fortune Slots fans will have a chance to win Wheel of Fortune collectibles. In addition, the Company will honor Wheel of Fortune Slots all year with new product launches for land-based and online play, and with special events at gaming industry trade shows.