Everi Holdings Inc.  announced the launch in the Southern California market of its MonsterVerse™ wide-area progressive ("WAP") game at San Manuel Casino. The WAP game, featuring Kong and Godzilla™ in earth shattering 4K display, is based on Legendary Entertainment's Monsterverse.
Bigger than any single monster, Legendary's Monsterverse is an expansive story universe of multi-layered experiences centering around humanity's battle to survive in a world that is under siege by a catastrophic new reality—the monsters of our myths and legends are real. Beginning in 2014 with Godzilla and continuing with 2017's Kong: Skull Island, 2019's Godzilla: King of the Monsters, and 2021's Godzilla vs. Kong, Monsterverse films have accumulated close to two billion dollars globally at the box office.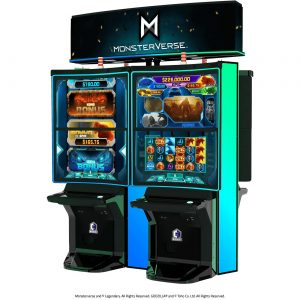 Now, the two most beloved Titans, Kong and Godzilla, as well as other iconic kaiju monsters, are showcased in San Manuel Casino's newest gaming offerings, which also features the "Monster Bet", daring players to bet big to play four arrays at once. MonsterVerse™ is the latest series on Everi's Empire DCX™ premium cabinet, complete with dual-curved 43-inch monitors with integrated edge lighting, a 4K display providing an immersive player experience, enhanced game-controlled lighting, premium 4.1 surround sound, and convenient mobile device charging ports.
Located just 60 minutes outside of Los Angeles, San Manuel Casino is a thrilling world of gaming. The addition of the first-to-market MonsterVerse™ enhances a leading gaming destination in Southern California, which features two stories of mechanical reels, video reels, video keno, in-house progressive jackpots, wide-area and Mystery Jackpots, and Wide-Area progressive (multi-casino) jackpot machines. San Manuel Casino recently hosted the Ultimate Titan Showdown, a slot pull tournament in celebration of the MonsterVerse™ launch.
San Manuel Casino is Southern California's one-stop destination for entertainment and fun, located just 60 minutes from downtown Los Angeles and a short drive from LA-Ontario International Airport. San Manuel Casino guests enjoy the most slots on the West Coast, Vegas-style blackjack, high-limit gaming, live entertainment, sumptuous dining and a generous player's reward program. Since 1986, players have received over $2 billion in cash, prizes and giveaways, making any visit to San Manuel an exciting and memorable experience. For more information on San Manuel Casino, visit www.SanManuel.com